African Peacekeeping Missions: UN Promises Review Of Strategy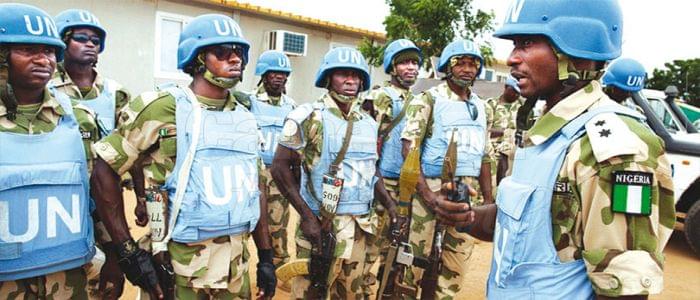 The Secretary General, Antonio Guterres says peacekeeping challenges have changed over the years.
In to cope with the changing times, the United Nations is to adjust its peacekeeping methods in Africa, especially in Mali, the Central African Republic, CAR, the Democratic Republic of Congo, DRC and South Sudan.
Talking on May 30, 2018 in Timbuktu, Mali, while on a visit to blue helmets, UN Secretary General Antonio Guterres said the four African operations had no correlation to the initial idea of peacekeeping developed by the world body.
"We must work hard to change the way of doing things. We are developing a peacekeeping action plan to improve internal procedures and better support peacekeepers in all aspects," Guterres told journalists in Mali on the 70th anniversary of UN peacekeeping on the theme, "70 Years Of Service And Sacrifice."
Speaking earlier on January 28, 2018 in the Ethiopian capital, Addis Ababa on the sidelines of the 30th Assembly of African Heads of State and Government, Antonio Guterres said the intergovernmental organization was reviewing its peacekeeping strategy in order to make operations cost-effective, troops more equipped, better prepared and more efficient.
According to him, focus will be on redesigning peacekeeping forces with larger operations and "making sure that forces are better equipped and better prepared." The UN Chief said the world needed not only peacekeeping, but also peace enforcement.
The UN Scribe first announced the changes on November 14, 2017. The comprehensive reform of UN's peace and security operations is aimed at ensuring that the UN is fit for contemporary challenges and able to engage early, flexibly, and effectively across the spectrum of conflict.
His vision is for renewed focus on prevention and political strategies to guide the design and conduct of UN missions.
It is hoped that this will enable the organisation to "significantly reduce the need to intervene through large-scale peace operations and humanitarian responses."
The reform is meant to ensure that the UN becomes more coherent, operates less in silos, duplication is avoided, and decision-making is devolved to field workers.
Same category