Arts And Crafts : Renaud Springs To Limelight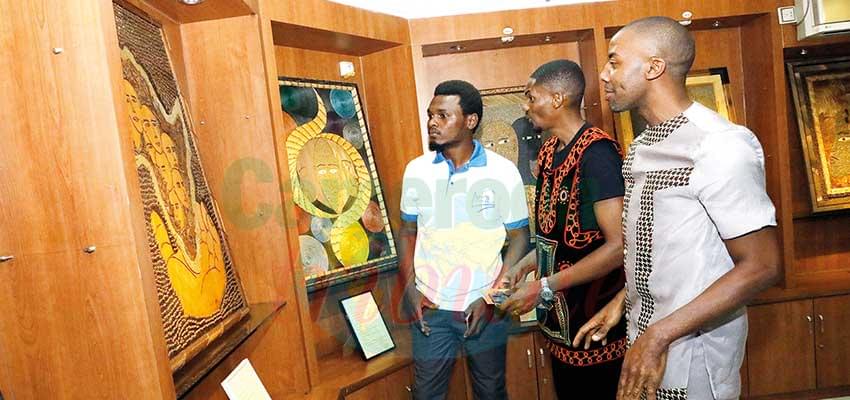 After 11 years of being behind the scene as a painter, he finally decides to make known his works to the public on February 08, 2020.
Renaud Atemengue has finally crossed from the dark side to the bright one. This was done with the help of an exposition that was organized at the Solomon Tandeng Muna foundation on February 08, 2020. The exposition comes after 11 years of working in soliloquy away from the society but with closed ones like family members and friends. When asked why the long wait, he said his "works are not mere decorations because each of it has a story to tell' which concerns him personally, and so he would want that anyone who gets hold of any of his paintings would be able to make meaning out of it. He added that it was due to the pressure of his closed friends that he accepted to present his works to the society.
Besides being a painter, he is a chief cook and a poet. He does poetry whenever he engages himself to paint and gets inspired to write whatever he feels and thinks in mind. This explains why most of his paintings are accompanied by poems written by him. Before the exposition proper, Renaud said his works were not for sale, and that he would rather prefer to offer his work to someone who looks at the same wave length as he, than sell it to someone who will see it as mere decoration that can be replaced at will. "Selling my painting will be like selling part of me which cannot be sold. Notwithstanding, he could do a painting for a customer who has placed an order for a specific thing he or she wants.
The Manager of the Muna Foundation, Ndika Tanjong as one of the promoters said he opened the doors of the conference hall of the foundation for this exposition because he has, on many occasions, witnessed the creativity behind Renaud's works and saw the need for him to make the society discover his talents. Djeugoue Ngangoun Ghislain, President of the Association Art's Feeling corroborated Ndika that talents like this need not stay at the backstage but come to the fore and make themselves discovered which tie with the association's objective of promoting artists.
He began painting at the age of 18 with his first piece of art being that of a woman in the African map. The painting was criticized by his father to whom he decided to present his first work and expected a favorable response to it, but all he got were some words of discouragement from his father as "painting does not have value in this country. I advise you to further your studies and do another thing." Friends equally mocked him that he could not buy his working tools like paint brushes and paint. Despite all this he still kept his head high convinced that one day his light will overshadow all these darkness. The exposition thus, came as a start to the bright future and it will run till February 29, 2020.

Same category