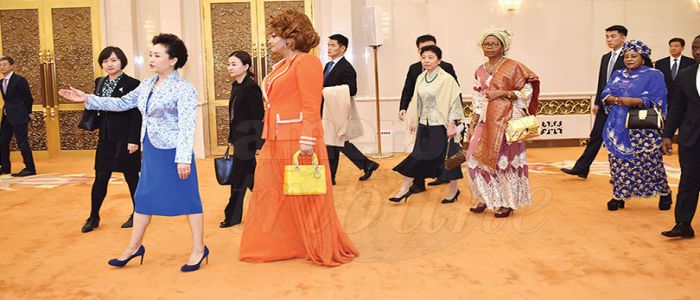 One of the major points of the First Lady's stay in China was her meeting with Chinese First Lady, Peng Liyuan, with whom she shares same vision for people living with HIV.
The popular adage which says "like forces attract" was seen during the first-ever encounter Cameroon's First Lady, Chantal Biya, had with the First Lady of the People's Republic of China, Peng Liyuan, at the just-ended State visit of President Paul Biya to the country. Their encounter was brief but worth more than what any person could ever imagine when it comes to the fight against HIV/AIDS in the world.
The visit therefore was an ideal opportunity for Mrs Chantal Biya, who is UNAIDS Special Ambassador and UNESCO's Goodwill Ambassador for Education and Social Inclusion to talk with her host, Peng Liyuan, who is also World Health Organisation (WHO) Goodwill Ambassador for Tuberculosis and HIV/AIDS on how they can commit together to curb the deadly pandemic which is ravaging many young people worldwide. Mrs Biya's presence in the People's Republic of China was not meant only to accompany her husband for a State visit.
To her, it also meant using the occasion to expand and create collaborative opportunities when it comes to alleviating poverty and eradicating the HIV/AIDS pandemic. Chantal Biya's meeting with Peng Liyuan is coming at a time when the First Lady of China has committed to join African First Ladies to combat the HIV pandemic. This was during an Anti-AIDS advocacy event in Johannesburg, South Africa as she joined her husband in a China-Africa Summit.
On the sidelines of the Johannesburg meeting, Peng joined other African First Ladies against HIV/AIDS as a campaigner in fighting the disease, to reaffirm her country's support to mobilize civil organization, provide funds and support anti-HIV/AIDS work in Africa and elsewhere.
The State visit was not only an ideal moment for Peng Liyuan to have met a faithful partner in the fight against HIV, but also to Mrs Biya whose efforts in the fight is breaking more grounds and changing the lives of many people living with HIV as well as those orphaned by the disease.
Peng's engagement in anti-AIDS efforts dates 10 years ago, when she helped children affected by HIV/AIDS and promoted prevention messages. There is no doubt as to why she is counting on the support of Mrs Biya whose commitment in the fight against HIV dates back to 20 years.
Mrs Biya's eyes glowed with satisfaction as she heard Peng Liyuan talked about the need to galvanize resources to combat HIV. The recent State visit for Cameroon's First Lady is more than satisfactory especially as she is sure of a broader collaboration between her Foundation, the Chantal Biya Foundation, which was already benefiting from the largesse of the People's Republic of China.
The stage is now set for Mrs Chantal Biya to explore her South-South cooperation for more laudable actions in the fight against HIV/AIDS and suffering.
Same category