CPDM General Secretariat : Greater Support Reaffirmed To President Paul Biya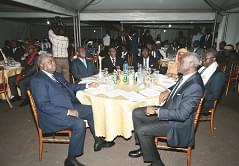 The Secretary General of the Central Committee of the Cameroon People's Democratic Movement (CPDM), Jean Nkuete expressed the commitment during a reception in Yaounde.
The entire family of the Cameroon People's Democratic Movement (CPDM) and a vast majority of Cameroonians through the words of the Secretary General of the CPDM Central Committee, Jean Nkuete have reaffirmed their greater support to President Paul Biya in his present and future challenges to build a united and prosperous Cameroon.
Jean Nkuete made the declaration at the General Secretariat of the CPDM on November 6, 2019 evening in the reception to celebrate the 37th anniversary of the ascension to power of the CPDM National President Paul Biya. Taking into consideration the melancholic context of the celebrations characterised by natural disasters in some parts of the country and the insecuirty in other parts, the event started with a minute of silence in memory of the victims who have lost their lives. The occasion animated by the CPDM Choir took place in the presence of national dignitaries such as the Prime Minister, Head of Government, Chief Dr Joseph Dion Ngute, Minister of State, Secretary General at the Presidency of the Republic, Ferdinand Ngoh Ngoh, Minister, Director of the Civil Cabinet, Samuel Mvondo Ayolo, some cabinet ministers, officials of allied and friendly parties to the CPDM and representatives of some diplomatic missions and international organisations in Yaounde.
The Secretary General of the CPDM told President Paul Biya that "We are proud to say that the CPDM family loves you, a greater majority of Cameroonians love," and added that they are determined to more than ever before adhere to the New Deal programme which President Biya incarnates. He highlighted for appreciation the presence of some representatives of diplomatic missions and international organisations and expressed thanks for the multifacetted contribution to the country's development. He said as privileged witnesses of the evolution of Cameroon, they have to make an honest appreciation of the realities of the country.
Talking about the international context of the celebration, Jean Nkuete said its taking place at the time in which all the countries of the world are in quest of welbeing, justice and survival of the planet. He said in the context, a vast majority of Cameroonians are facing the challenges by believing in themselves and the future of the country. It is for this reason that they have remained faithful to the foundations of cultural diversity, national unity, territorial integrity despite the snears of its enemies and incomprehension of friends and development partners. Cameroonians believe that their destiny depends on them. He said this accounts for the historic success of the Major National Dialogue that took place under the enlightened initiative of President Paul Biya. The dialogue proved to the world the willingness of great majority of Cameroonians of goodwill to transcend differences to build national living together, rooted in the diversity of the country.
Same category