South West : Regional Assembly Assists IDPs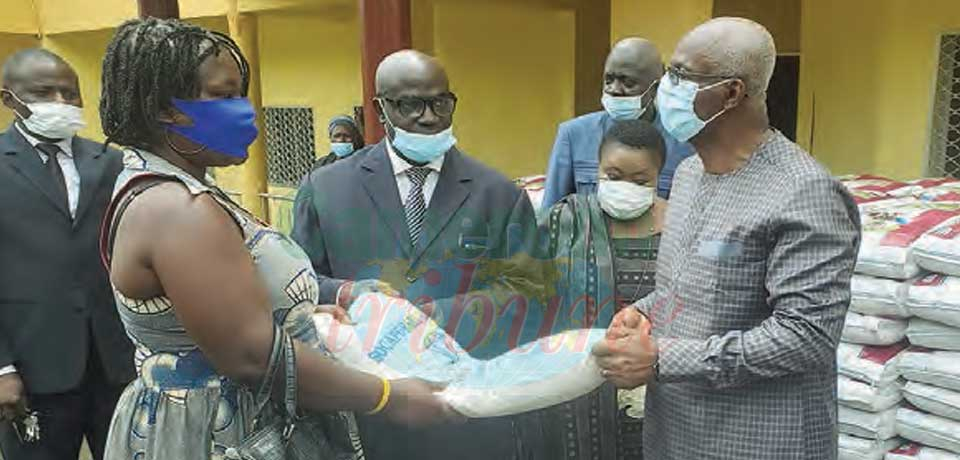 They were urged to also share with those in their various communities who were not privileged to be enlisted as beneficiaries.
The South West Regional Assembly has come to the assistance of 300 Internally Displaced Persons (IDPs) living in Buea with 50 each drawn from the six administrative divisions that make up the South West Region. They were shared 300 bags of rice, 300 bags of salt, 50 cartons of soap and 100 cartons of vegetable oil. In effect, each beneficiary took home a package made of one bag of rice (60kg), one bag of salt (18kg), 10 tablets of soap and five litres of vegetable oil. The items were shared to the beneficiaries on Saturday, October 23, 2021 at the premises of the South West Regional Assembly in Buea.
Bakoma Elango Zacheus, President of South West Regional Executive Council, who oversaw the sharing exercise, explained to the IDPs the mission of the South West Regional Assembly to the population. He regretted that the displacement and suffering of the population have been caused by children in the same communities but appealed to parents to urge their children and brothers in the bushes to lay their arms and return home. That the suffering of the masses is too much and it is time to give peace a chance. Elango Bakoma urged the beneficiaries to also share with other needy IDPs in their communities who were not privileged to be selected.
The donation exercise in Buea was the first phase. The second phase has been announced for Kumba in Meme Division and third phase in Mamfe in Manyu Division, all in 2022.
Butame Rachel, beneficiary, said that they have had difficulties all these while with their feeding and the food items have come at the right time. Portia Welle Bekeli, displaced from Ndian Division to Limbe, considered the items a great relief especially as prices of basic commodities are soaring in local markets. Frida Orock, displaced from Tinto in Manyu to Buea, was so happy for the food stuff. She prayed that the South West Regional Assembly should multiply such goodwill gestures so as to reach many IDPs. The IDPs said they have yielded to the plea to share with those of their communities.

Same category